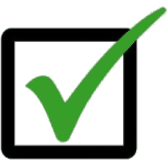 6) Be patient with new concepts and/or repetitions of booklets. Repetition, if necessary, is so important to prepare for more advanced learning as well as standardized testing.  While mastering a skill, sometimes extra practice is needed.  Does anyone become proficient scoring soccer goals during the first practice?  Likely not! Addition facts and reading comprehension should be treated the same way.  Mastering a skill with confidence is different than simply understanding how to do it.
Some students may want to stop the program when the work becomes more challenging.  This is the most important time to encourage and persevere. It is better to learn and master new topics at Gideon to stay a step ahead with no school grades or pressure.
While you may become frustrated if your child struggles to make the time or mistake standards, remember we are solidifying the foundation of this 'house'.  We cannot build the second floor if the first is not finished.  The entire structure could collapse later.  To help speed things along, you can do extra oral fact drills and have your student read the words or passages aloud. It is vital to home grade (math drill only) and have your student complete corrections before the next day's work.